Home
The 1
st
Conference on Brillouin light Scattering for life science and biomedical applications continues in the tradition of 5 successful "Biobrillouin Meetings" and training schools previously funded by the EU COST Action "BioBrillouin" (CA16124). This conference will be the first organized under the auspices of the newly founded International BioBrillouin society. This edition will also be the occasion to celebrate the 100
th
anniversary of Léon Brillouin's publication that described the interaction between light and sound.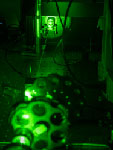 This conference is dedicated to the discussion of advances in the field of Brillouin Light Scattering Microspectroscopy for Biological and Biomedical Research and Applications. Topics covered include (but are not limited to):
•
Instrument/Technique Development & Design
•
Data Analysis & Interpretation
•
Life Science & Biomedical Applications
•
Complementary & Correlative Studies and Techniques
The meeting will take place in
Lyon
,
France
, in a unique venue that provides conferences rooms and accommodation in a peaceful wooded setting. The event will host leading researchers working in the field and offer ample opportunities for networking. We hope to foster the initiation of collaborative projects with applications to instrument design, cell biology, pharmaceutical and clinical research.
The conference will be followed by a 2-days training school. See
dedicated page
for more information and registration.
Speakers

Silvia Caponi
Dr. Silvia Caponi is Researcher at National Research Council since 2010 (Italy). She has a recognized expertise in the use of spectroscopic techniques for the analysis of soft and disordered materials. During her research activity, she performed experiments in the European Large Scale Facilities (ESRF, ILL, Elettra) establishing collaborations with several national and international research groups. She is currently working in the bio-photonic framework applying light-based technologies to the life sciences. In this context, she participated in the setting up of the laboratory of simultaneous micro-Brillouin and micro-Raman spectroscopy in Perugia (Italy) for the non-contact mechanical and chemical analysis of cells and tissues.


Antoine Coulon
Antoine Coulon is a CNRS researcher and group leader at Institut Curie, Paris. His group studies the physical organization and dynamics of chromosomes in the mammalian nucleus and how these spatio-temporal aspects of the genome are involved in gene regulation. He explores these topics with an approach at the interface between biology and physics, combining single-molecule microscopy, micro-manipulation technologies and polymer modeling.


Thorsten Hamann
Thorsten works in the area of plant cell wall biology. He analyses signalling processes during cell wall integrity maintenance, investigating carbohydrate metabolism and aiming to understand the processes determining plant cell wall composition and structure. Structure and composition are important because they determine the efficiency of bioenergy production from biomass and the ability of food crops to resist biotic and abiotic stress.


Chris Lorenz
Chris Lorenz is a Professor in the Biological Physics & Soft Matter Research Group in the Department of Physics at King's College London, where his group uses classical molecular dynamics to investigate various interesting biophysical systems as well as the self-assembly of soft matter. Before joining King's, Chris earned his PhD in Chemical Engineering from the University of Michigan in 2001 and then went on to do postdocs at Sandia National Labs (2001-2005) and at Iowa State University (2006-2007).


Francesca Palombo
Francesca Palombo is an associate professor in Biomedical Spectroscopy at the School of Physics and Astronomy and an affiliate investigator of the Living Systems Institute at the University of Exeter, UK. Her research is focused on developments of Brillouin, Raman and FTIR spectroscopy methods for applications to biology and medicine. She's interested in physical and chemical aspects of biological systems at a molecular level, as well as their implications in disease


Wouter Roos
Wouter Roos obtained his PhD in biophysics in Heidelberg and after a post-doc period at the Max-Planck-Institut für Metallforschung (Stuttgart) and Institut Curie (Paris) he went to the Vrije Universiteit Amsterdam to focus on Physical Virology approaches. In 2015 he accepted the chair in Molecular Biophysics at the Zernike Institute, Rijksuniversiteit Groningen. Here Roos is heading a research group focusing on mechanics and dynamics from molecular to cellular length scales, including studies on viral self-assembly and mechanics, extra-cellular vesicles and membrane proteins. By using techniques such as (High Speed-)AFM, Optical Tweezers and Fluorescence Microscopy, the lab is aiming to describe and unravel physical principles of (sub)cellular mechanics and dynamics and to elucidate mechanisms behind protein and supramolecular assembly functionality


Claude Verdier
After a PhD in viscoelastic fluids at the University of Minnesota (1990), C Verdier carried out a Postdoc on the adhesion properties of polymers. Then he became a researcher at CNRS in 1992. Since then he has been working on the rheology of complex materials, in particuliar he developed applications related to biological systems (cells and tissues) using AFM or traction force microscopy (TFM) to study cell migration. He is now a Research Director at LIPhy (Laboratoire Interdisciplinaire de Physique) and has been head of the Mechanics section 9 at CNRS (2012-2016). Currently, he is the head of the Federation "Galileo Galilei Grenoble", and also deputy director of the LabeX Tec21"Engineering of complexity"


Jitao Zhang
Jitao is an Assistant Professor in the Biomedical Engineering Department at Wayne State University. Before that, he was a research assistant professor in Fischell Department of Bioengineering at the University of Maryland, College Park, where he also received his postdoc training from 2015 to 2018. He obtained the Ph.D. degree in optical engineering from Tsinghua University, Beijing China. He has authored more than 30 articles in peer-reviewed journals and edited two book chapters. Jitao has been a recipient of several awards, including the Doctoral Dissertation Excellence Award, the Marcy Speer Award for postdoc, the NIH K25 award, and the Helmsley Scholar from Cold Spring Harbor Laboratory.